> > How to decorate kids rooms
Below you will find instructions on decorating and designing kids rooms. Below you will find ideas to organize your childrens' rooms, decorating theme ideas for boys and girls rooms, decorating and design ideas for your child's bedrooms, bedroom furniture ideas, nursery ideas, art and wall decor ideas for kids rooms, and playroom decorating and design ideas.
==========================================
IDEAS TO ORGANIZE YOUR CHILDREN'S ROOM
Making Kids Closet Organizational Pockets

This is a craft to turn your closet into an organizational group of pockets to hold all of your stuff in a more organized way. The way that you make these pockets is to find a long piece of cardboard that is about a food wide and about as high as your closet. Then attach several large transparent plastic bags to this cardboard. You can either attach them sideways for items such as bags and bigger items. However, if you want to put smaller items such as letters, keys, etc..then attach the bags with the opening at the top. This will take all the clutter off of your floor and make things more accessible and easier to find when you are in a rush.
Make a Gigantic Pencil with Storage Pockets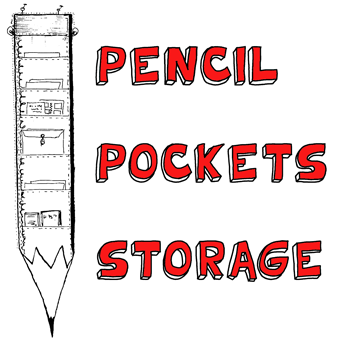 Cut out a sturdy piece of yellow fabric into a gigantic pencil shape. Get black, ten, gray, and pink felt or fabric. Cut these pieces out for the point of the pencil, the wood that is right above the pencil tip, the gray / silver part above the erase, and the pink eraser itself. This will make the pencil look real. Now to make the pockets. Either use fabric, felt, or large & clear plastic bags. sew the plastic bags or yellow pockets onto the pencil (sew on all sides except for the top of the pocket to make the hole). You now have a beautiful pencil pockets storage wall or closet hanging. Sew 2 ribbon loops at the top of the pencil to hang it on nails or hooks.
Crafting of a Desk Organizer Divider Unit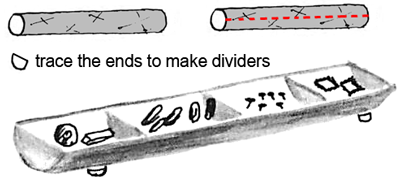 If your desk is messy, you can make things better by creating a desk organizer. With this unit, you can put your tacs, staples, erasers, paper clips, ets into separate compartments to organize your school desk. Find a strong cardboard tube that is no longer in use. Use the ends of the tube to trace a few circles on paper that are bit larger than the tube. Now cut all of those circles in half. Now cut the tube down the center, the long way. Now use all of those half circles to place tube compartments in the unit. Also to make ends to the unit. Just use strong glue to glue everything in place. Use small caps to glue legs onto the bottom of the desk organizer. I hope this helps you organize your desk.
Milk Carton Organizational Cubbies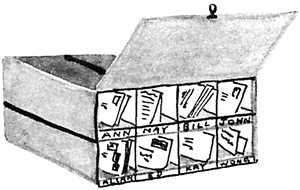 Cubby Cubes are great for organizing mail, papers, schoolwork, etc. Cut off the tops from several milk cartons and glue the cartons together side by side. Cut a rectangular piece of cardboard to fit the front and tape it along the top of the cartons to flap down as a cover. Fasten with a loop and a button. Label compartments alphabetically with the way that you want to categorize all the cubby boxes.
Making Drawer Sections with Cardboard Tubes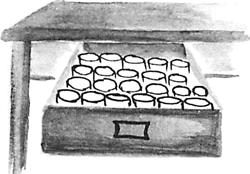 This is a great organizational craft for your desk drawers, especially if you are in to collecting small items. Measure the height of your desk drawers and then cut a whole mess of cardboard tubes (such as toilet paper tube rolls). Cut them all down to a height that is slightly less as high as the desk drawer you are using.

Now take all of teh tubes and cut slits on the end of them. Now find a piece of cardboard that is about the same size as the desk drawer. Glue all of these tubes down onto the cardboard, as pictured in illustration 2. When you are done, it will look like the top picture and you can start keeping collections of rubber bands, staples, paper clips, safety pins, etc. all separate from each other.
Make a Magazine Rack from a Wire Hanger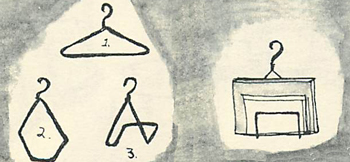 Now you can organize your magazines, books, and other special reading materials. Press down the bottom rung of a wire coathanger and pull it out lengthwise. Then bend the bottom of the hanger into an upward curve. Fill the rack with magazines or books and you can hang it beside you in the car, on your deskchair, or on a doorknob in your room.
Make Letters or School Papers Holders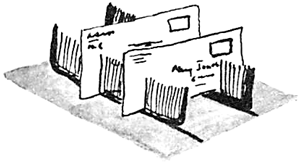 Comb through your school work or mail in minutes with paper holding combs. In a piece of corrugated cardboard, cut two grooves about 3 inches apart. Then glue a comb into each slit. Paint the holder and its multi-teeth are ready to untangle letters, tests, schoolwork, and more.
Extra Space for Your Bulletin Boards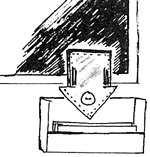 Clear working space on your desk by keeping tabs on desk overflow beautiful with a decorative wall nook. Suspend an enormous cloth tab from your bulletin board and button it to a slim box. When your desk is snowed under, beautiful kids room 2018 you'll welcome this extra drawer..
Make Your Own Hanging Racks Easily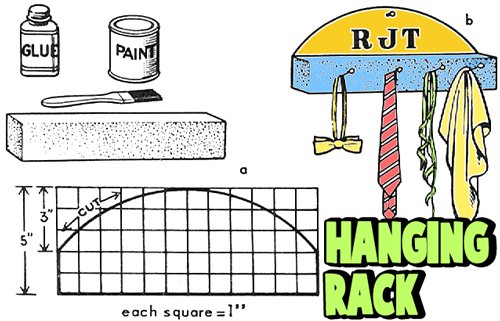 To make this, you will need 1 piece of styrofoam approximately 2" x 12 "x 1", piece of cardboard 5"x12", scissors, glue, paint and paintbrush or fancy paper, decal, and 3 or 4 pins. To make this, cut cardboard as shown in sketch a. Punch hole in top center (or later put sticker hanger on back). Paint top portion to 3" depth, or cover with fancy paper. When dry, paint on freehand design or initials, or apply a decal. Glue styrofoam strip across lower portion of cardboard (sketch b). Put several corsage pins on rack for attaching scarves, ribbons, ties, etc.
More Organizational Crafts Below
- Tips on making organizing fun, being an example, and products to help get everything in order. 123sortit.com
- Need ideas for kid's room storage, here are 3. iVillage.com
- Made from a hanging shoe holder, with a craft item stored in each pocket, our space-frugal organizer lets little crafters find (and return!) what they're looking for--whether it's buttons, bottle caps or beads. A sample item is affixed to the pocket for easy visibility. Family.Go.Com
- This versatile rack and carrying tray can be adapted to hold drawing tools (as we show here) or other collections of craft materials. Family.Go.Com
- Understanding why children love collecting will help you come to grips with the muddle and mess. Putting like objects together is a learning process that teaches kids to identify, classify and organize. gardenhearth.com
- "Clean your room!" It's the battle cry of millions of parents. A new school year brings fresh impetus to the drive to get kids organized--and nowhere is the battleground more intense than in the children's bedrooms. How do you help children organize their rooms and their stuff? organizedhome.com
- Keeping your kid's room in order can seem like an insurmountable task. What is a parent to do?
- Storage in a child's room is almost as important as the wallpaper or window treatments. About.com
- Spring is here, and with it comes the urge for to clean, de-clutter, and toss out. LoveatHome.com
- Expert advice on setting up routines, smart storage, and more. Child.com
- When organizing your children, the task can seem impossible at times. Your idea of organizing may not be your child's idea of organizing. commitment.com
- Try our tips for storing all your baby paraphernalia -- from booties to burp cloths. Child.com
- How do you go about organizing a bedroom for a child with lots of stuff? stretcher.com
- Are you constantly tripping over books, clothes, and toys in your child's room? When you ask them to clean their room, does everything get shoved under the bed? If the answer is yes then it is time to attack the clutter and get their room in order.
- Don't let the kids' bedrooms become a disaster-zone. Stay organized with advice from an expert. StyleatHome.com
- An organization solution idea from FamilyFun. Family.Go.Com
DECORATING THEMES FOR A BOY'S BEDROOM
- Whether you're expecting a new baby boy or just want to give your son's room a new look, here are five great ideas from parents who've actually used them. iVillage.com
- Decorating a child's room is one of the most joyful aspects of expecting a baby. And while bunnies are cute and teddy bears are darling, perhaps you wanted something different for the bedroom or playroom. About.com
DECORATING THEMES FOR A GIRL'S BEDROOM
- A country touch gives a room the feeling of warmth and serenity. Keeping the colors soft in warm tones adds an airy appeal and helps a smaller room seem less confining. Adding a touch of country charm to a girl's room is easy with these sweet accessories. gardenhearth.com
- Serious little girls may prefer a more formal bedroom. Keeping a childlike feel with a sophisticated look can be difficult to achieve. Choose grownup accent pieces that are in smaller scale and the formality of the room will soften. gardenhearth.com
- Add new life to your daughter's room or decorate a nursery with these five tested ideas from fellow iVillagers. Or share your own ideas on the Decorating Kids' Rooms message board. Happy brainstorming! iVillage.com
- Favorite colors displayed in big, broad patterns will keep a little girl interested in her room. Show host Sherry Ruggieri tells how to build better rooms for little girls--with thought not only about the present but also to the future--by following these design basics. HGTV.com
- Find themes for little girls' rooms here. About.com
DECORATING / DESIGN IDEAS FOR CHILD'S BEDROOM
3 Finishing Touches for Kids' Rooms - Cute little ideas for a great finishing touch. iVillage.com
- Feng shui offers you, the homeowner, design with purpose. For a child's room this purposeful design is especially important.
- Those of us with children - be they toddlers or teenagers - cannot help but be aware of the tremendous growth of stylish new decorating choices for kid's rooms. From cribs to beds, from floor coverings to wallpaper, manufactures now offer increasingly diverse decorating choices for doting parents. simplyfamily.com
- On this page you're invited to look up home decor topics relating to decorating a child's bedroom -- everything from theme rooms to wallpaper, faux treatments to window treatments. About.com
- Furnishings and fabrics that make decorating easier than ever. Child.com
- Furniture and fabric get a simple makeover with the help of your computer
- It's time to start getting the nursery ready, but you don't know whether you're going to have a boy or a girl. Does it matter? Not really, according to fellow iVillagers. iVillage.com
- A California designer scours Pottery Barn Kids to create a small girl's room. iVillage.com
- Decorating a child's room is both our desire to give our children the best we can afford and to provide the necessary functions that will allow for a child to utilize his or her room to the fullest. homebase.ca
- Photos and ideas for several room themes, including castles, fishing, bows, baseball, trees, and gardens. About.com
- Decorating your child's room with versatility in mind. essortment.com
- Decorative ceilings for children room. Simple steps to creating beautiful and fun ceilings in your child's room - soft puffy clouds, sparkling stars, colorful rainbows. essortment.com
- There are inexpensive ways to make their bathroom a place so cheerful they will want to take a bath and brush their teeth!
- It just takes a little paint, maybe some wallpaper, some furniture that serves more than one need, and most important, input from the kid who inspires it all.
- As well as being fun to decorate, children's rooms are important because they help spark creativity, assist development, and may even influence their tastes. xtramsn
- Though probably not the first thing a parent wants to think about when decorating a children's room is the fact that the room will not always serve this purpose. gardenhearth.com
- Decorating a kids room is not a childs play. Its a quite complex process where an adult has to incorporate all the safety features and blend them with childlike fantasy. essortment.com
- few decorating tips added a lot of "oomph" for just a little cash. Surprising, little changes can give a room a completely different look. diaperpin.com
- When you decorate the kid room have some fun and be creative. Ideas for designing the perfect baby's or child's decor for an animal or Noah's ark themed room. essortment.com
- Whether you're expecting a new baby or just want to spruce up your child's existing room, here are some great ideas for fabulous kids' rooms from your fellow iVillagers. iVillage.com
- Freshen up your kid's bedroom with clever design ideas from Child readers. Child.com
- Gone are the debates over 'eggshell' versus 'ivory sand'. Today, the trend is to use colour boldly, and children's rooms are no exception
- A child's room is the hub of his or her universe. It's a safe haven in which to play, dream, visit with friends, study, keep treasures and, of course, sleep. signonsandiego.com
- Short on ideas when it comes to decorating your kids' rooms? Kids may not know decorating, but they know what they like. Sneak a peek into their young worlds to gain some insight and inspiration. gardenhearth.com
- Don't settle for the usual baby and kids room decor. Create something unique! About.com
- The newest family-friendly options in wallpaper, paint, flooring, and fabric make it easy to spruce up your home. Child.com
- Many of her suggestions might also apply to foster parents, grandparents or relatives who take custody of a child, as well as step-parents who bring a new child into the family as part of their new marriage.
- The quest for order in a child's room must never replace the need to cultivate intellect. thelibrarylady.net
DECORATIVE ACCESSORIES FOR CHILD'S ROOM
- Accessorize your child's room with age-appropriate furnishings. Use toys in creative ways and decorate so that maintenance is easy. eHow.com
- A customized drawer knob idea. Family.Go.Com
- Virtually all you need to make this simple project are a wooden switch plate, some bright paints and your child's willing hand. iVillage.com
- This leafy awning makes a colorful impact in Henry C.'s jungle-themed room. Family.Go.Com
- Colorful kids area rugs add lively interest and playtime pattern to kids bedrooms and playroom. About.com
- A mock clothesline puts creations on display. Family.Go.Com
- When Molly P., age 8, from Huntington, New York, asked for a canopy bed, her mom, Helen, came up with this clever substitute. Family.Go.Com
- Window treatments can baffle even experienced home decorators. Overwhelmed by a huge variety of choices in material, fabric, color, size, options, and hardware, where do you start? About.com
- Safety comes first, but style and function are a close second. About.com
DESIGN CHILDREN'S BEDROOM FURNITURE
- Miles M.'s mom, Mary, of Wauwatosa, Wisconsin, transformed an old dresser into a fun and functional tool for her son by painting the drawers with chalkboard paint. Family.Go.Com
- Any child would get a kick out of pulling up a chair to a one-of-a-kind game table like this one, particularly if he's had a hand in creating it. Applying the self-leveling polymer finish is definitely a job for adults only--but the good news is that it pours on and, once cured, it's waterproof. Fun.Go.Com
- This giraffe table, the idea supplied by FamilyFun reader Susan Dodson, is made from papier-mâché, a crate and paint. Colorful and light, it's perfect for storing toys, magazines, or just about anything. Family.Go.Com
- Instructions on how to paint a multi colored wooden chair that would make a great addition to any child's room. essortment.com
- One of the keys to a versatile child's room may be in choosing furnishings that are long lasting. About.com
NURSERY ROOM DESIGN AND IDEAS
- Creating a room for a baby is just one of the many joys of parenthood. Still, purchasing all new furniture, accessories, equipment, toys, books, clothing, and room decor can be positively budget-draining. About.com
- From a storybook nursery to an angel-themed room, get inspired with five different decorating themes for your baby. iVillage.com
- Whatever your budget, your baby's bedroom can be both beautiful and functional. Child.com
- If shopping for baby means shopping with baby along, you'll really appreciate what the Internet offers in terms of convenience and variety of goods for infants - from cribs and strollers to diapers and car seats. eHow.com
- For the infants room, learn how to decorate a nursery to reflect your loves and create a nurturing enviroment for your baby. essortment.com
- Nursery decoration themes and color schemes are up to you, of course, but here are some basic guidelines for setting up a safe and comfortable nursery. eHow.com
- Stars like Cindy Crawford and Kelly Ripa look to Wendy Bellissimo for nursery design. Child.com
- Try our tips for storing all your baby paraphernalia -- from booties to burp cloths. Child.com
- Create a soothing, safe slumber space for your baby with eco-friendly materials. Child.com
ART / WALL DECOR IN CHILD'S ROOM
- 3 ideas for your kid's room's walls. iVillage.com
- This setup is best for kids who have learned to draw within the space allotted to them and know how to use different materials--generally kids ages five and up. Family.Go.Com
- A great kids' room idea... By day, this cityscape mural makes a great backdrop for playing with toy cars and trucks. When the sun goes down, all it takes is a night-light to illuminate the buildings and night sky. Family.Go.Com
- A fun kid's room idea from FamilyFun magazine. Make a picture-perfect growth chart. FamilyFun.Go.Com
- A kid's room decorating idea from FamilyFun magazine... When Michelle O. of Sun Valley, Nevada, was searching for a way to personalize her sons' room, she asked the boys, Andrew and Quin, for a hand... literally. Family.Go.Com
- If you've ever wished you could add a mural to your child's bedroom, but decided it was too difficult or costly, let us introduce you to the overhead projector. Yes, that one-time staple of lecture halls allows parents and kids to turn any traceable image into a mural. Family.Go.Com
- This is a play space where kids will feel right at home: the very street where they live. Here, they can check the mail, take the dog for a walk (or draw him a pal on the chalkboard), hang up doll clothes on the line, play with magnetic fish on the pond, or open the door to see who's in the house. Fun.Go.Com
- Add a personal touch to your child's room with these easy and inexpensive ideas. iVillage.com
- Calling all stargazers! Turn a plain lampshade into a celestial beacon, illuminated by a galaxy of simple stars. And the technique couldn't be easier. Family.Go.Com
- We think that you shall never see a stencil lovely as a tree. With a few simple branch and leaf patterns, you and your kids can create a single stately elm or transform an entire wall into a lush forest of laurel. Family.Go.Com
- Whatever the motif, every child needs a special place of their own – some place that reflects their personality and their creativity.
PLAYROOM DESIGN / DECORATION / IDEAS
- Puppets allow children to become an active participant in their imgaginary world as opposed to just watching it on tv. Family.Go.Com
- Enhance your toddler's education and creativity by creating a fun, age-appropriate play space. eHow.com
- A fun play station idea from FamilyFun magazine. FamilyFun.go.com
- Design on a Dime - Chris and Michelle Belisle have a room set aside specifically for their children to play in but need some designer help in creating an imaginative playspace. HGTV.com
- Lightweight and cheery, this freestanding playhouse is roomy enough for a tea party but also can be folded together for easy storage in a closet or under a bed. Family.Go.Com
- An addition to the family doesn't have to mean an addition to the house. You can turn a spare room into a nursery or a playroom by splashing on fresh colors and patterns and using these ideas.
Похожие новости
Dazzling color prada handbags 2018
Unique tumblr tattoos for girls 2018
Quinceanera dresses for damas red 2018
Two storey house design philippines 2018
70s style clothing for women photo
French braid hairstyles with bangs 2018
Straight dark brown hair with ombre photo
Rooster kitchens 2018
ШОКИРУЮЩИЕ НОВОСТИ