HOW TO GET A 5: AP Psychology
How to Pass AP Psychology
Three Methods:
Advanced Placement (AP) Psychology is an intense course that covers broad content, and it's capped by a rigorous cumulative AP exam. Try not to get overwhelmed! If you stick to a daily study routine, you'll have a good shot at passing the course and acing the exam. Keep up with your daily assignments, since it's easy to fall behind in such a fast-paced class. Above all, stay organized. Neat notes will help you study for unit tests, and they'll prove invaluable when it's time to study for the AP exam.
Steps
Perfecting Your Study Habits
Make a rough outline as you read a textbook chapter.

AP coursework is fast-paced, so do all of your reading when it's assigned or you might fall behind. Keep your notebook handy when you do your assigned reading. Write down the chapter's main idea, key definitions, and summaries of each section.

If there's anything that confuses you, write down questions to ask in class.
Taking notes on your assigned reading can help you read more actively. Chapter outlines will also come in handy when you study for class unit tests and the AP exam.

Summarize lectures in your class notes.

Listen to and digest your teacher's lecture instead of trying to write down everything they say verbatim. Use the notes you took on the assigned reading as a framework for your lecture notes. Take notes quickly by using shorthand and abbreviations, and avoid writing in complete sentences.

Be sure to write down anything that your teacher says is important or will be on the test.
It's wise to exchange notes with a classmate to make sure you covered the lecture's important details.

Make flashcards to study terms, concepts, anatomy, and methods.

You'll encounter hundreds of important definitions over the course of the semester. Make flashcards when you read the assigned chapters so you're not overwhelmed at the end of a unit. List the chapter's key terms, write a term on 1 side of an index card, then write the term's definition on the other side.

Experimental methods, the function of neurotransmitters, therapeutic techniques, and psychological disorders are just a few topics you'll cover. You'll need to know definitions for terms such as dependent variable, dopamine, hebephrenia, and psychodynamic therapy.
Spend 15 to 30 minutes a night testing yourself on the terms that appeared in that day's assigned reading. You could also have a parent quiz you or study definitions with a classmate.

Review your notes regularly to keep a bird's-eye view of the course.

Every night, spend around 15 minutes reviewing that day's lecture notes and your outline of the assigned reading. Then take another 30 minutes to skim your notes from the days and weeks prior.

If you study a little bit every day, you won't have to cram the night before a unit test.
Additionally, the AP exam is cumulative, so brush up on past units to keep information fresh in mind.

Take a 10-minute break every hour that you study.

Giving your brain regular breaks will help make your study time more effective. You'll have a harder time retaining information if you lose focus and try to force yourself to power through for hours.

Your brain also consumes lots of energy. Fuel up during your breaks by grabbing a small snack, like a yogurt or a handful of unsalted almonds.
Try using a timer to keep track of when to take breaks.
Deepening Your Knowledge
Connect terms and concepts to real-world situations.

While you need to know lots of definitions, merely memorizing them won't deepen your knowledge. Psychology is about the behavior and mental process of actual humans and other animals, so connect definitions to real-world examples.

For example, if you're learning about aversion conditioning, imagine a smoker getting a light shock every time they reach for a cigarette. This type of therapy aims to build a negative association with a habit or behavior, so it's often used combat addictions.

Participate in psychological research.

Ask a local university's psychology department if any professors or students are conducting psychological studies. Find out if they're looking for test subjects or research assistants, and participate in any way you can.

You'll need a firm grasp of experimental methods, and participating in psychological research will provide valuable first-hand experience.
Reaching out to college professors and students can be intimidating, but try not to be worried. Professors are usually eager to help young people interested in their research, and it wasn't long ago that college students were in your shoes.

Master APA-style writing.

American Psychological Association (APA) style is the standard manual for fields related to psychology. While you won't need to cite texts on your AP exam, mastering the language and principles of APA style will improve the quality of your essays.

For instance, APA-style writing is formal, so no abbreviations or contractions, and minimal humor, if any. It should also be straightforward, so no metaphors or unnecessary jargon.
It's also important to use unbiased language free of negative connotations, especially when identifying people with disorders. For example, use "patients with schizophrenia" instead of "schizophrenics."
Your teacher will cover APA style in class. If your school has a writing lab, you should also work with them to improve your general writing skills.

Attend all study and exam prep sessions your teacher offers.

AP teachers typically hold numerous study sessions outside of normal classroom meetings. Take advantage of every opportunity you can to get extra help, especially 1 to 2 months prior to the AP exam in May.

Review your notes, past tests, and other materials prior to a study session. Identify test questions that gave you trouble or spots in your notes that need clarification. Bring these questions and concerns to your teacher during study sessions.
Additionally, try to attend any experiments, field trips, guest speakers, or other activities your teacher offers outside of class.
Acing the AP Exam
Take advantage of College Board's online resources.

College Board is the organization that oversees AP courses and exams. Visit their website for exam tips, practice tests, and examples of essays at all quality levels. You'll have a much better shot at success if you familiarize yourself with the exam format instead of going in blind.

See College Board's AP Psychology resources at .

Start studying your class notes at least 1 to 2 months before the exam.

You do not want to put off studying until the last minute. The AP Psychology exam will require you to demonstrate knowledge from every topic you've covered in class. Keep organized notes throughout the year, make flashcards, and start preparing for the May exam in March.

AP Psychology courses cover 14 topics, which include history and approaches, research methods, cognition, developmental psychology, and abnormal psychology. Your assignments and class sessions will be organized according to these topics.
Spend 1 to 2 nights studying a topic; review your notes, flashcards, and answer practice questions on that topic. Within a month, you'll have reviewed each topic in depth.

Spend less than 45 seconds on each multiple choice question.

When you sit for the test, you'll have 1 hour and 10 minutes to answer 100 multiple choice questions. Keep an eye on the clock, and avoid spending too much time on 1 question. If you can't figure out the answer in under a minute, skip the question and, if you have time, return to it later.

If you skip a question, make a note in your test booklet (not on the answer sheet), or fold over the booklet's page corner.
If you're stuck between 2 potential answers, take a guess. You'll receive points for questions you get right, but you won't lose points for blank or incorrect answers.
This first section of the exam counts as 66.6% of your score.

Read the free response questions carefully.

You'll have 50 minutes to write 2 essays; together, they count for 33.3% of your score. Look for task verbs, such as "identify," "explain," or "describe." Note everything an essay prompt asks for so you don't write an incomplete response.

The free response questions might ask you to design, analyze, or explain a psychological experiment, identify and describe a disorder or therapeutic method, or use a particular theoretical framework to analyze a hypothetical patient or pattern of behaviors.

Make a 5-minute outline for each essay question.

Keep an eye on your time, and don't take too long to write your outlines. Come up with a thesis or a statement that summarizes your experiment design. Organize your essay's paragraphs with Roman numerals or bullet points, then start writing the essay.

Write your outline on a blank page in your test booklet. You won't be allowed to bring scrap paper to the test.
You should definitely outline your responses to stay organized and prevent rambling. However, you need to spend less than 5 minutes on each outline. Only the 2 essays themselves will be graded. You won't receive credit for an outline if you don't finish an essay.

Spend 15 to 20 minutes on each essay.

There's no need to waste time on a thorough introduction. Just write your thesis, then get into the meat of your essay. There's no length requirement, but you'll need to compose complete sentences and well-organized paragraphs and fulfill all of the prompt's requirements.

Suppose you're prompted to design a drug experiment. Your summary statement could be, "Test the effectiveness of a drug for hyperactivity in children by randomly dividing a group of diagnosed patients into control and experimental groups. Administer a placebo to the control group, and the drug to the experimental group."
Your paragraphs should then focus on specific sub-topics. The first could discuss sampling, or the patients receiving a placebo and the new drug.
The next paragraph could discuss your methods. Specify that the study is double-blind, which means the patients and experimenter do not know which group receives the actual drug.
Then, explain how to compare observations of the patients before and after the experiment to evaluate the drug's performance relative to the placebo.
Community Q&A
Ask a Question
200 characters left
Include your email address to get a message when this question is answered.
Take notes by hand instead of typing them. You're more likely to remember the material if you write your notes with a pen or pencil.
Register for the exam according to your teacher's instructions. Arrive the testing center 30 to 60 minutes before the start time. Try to get a good night's sleep before the test, and eat a good breakfast that morning.
Bring number 2 pencils, your school ID or government-issued ID, and a watch (not a smart watch) to the exam. Don't bring your cell phone or any other electronic device.
Video: 10 Things You Should've Known for the AP Psych Exam...
How to Pass AP Psychology images
2019 year - How to Pass AP Psychology pictures
How to Pass AP Psychology forecasting photo
How to Pass AP Psychology pictures
How to Pass AP Psychology new images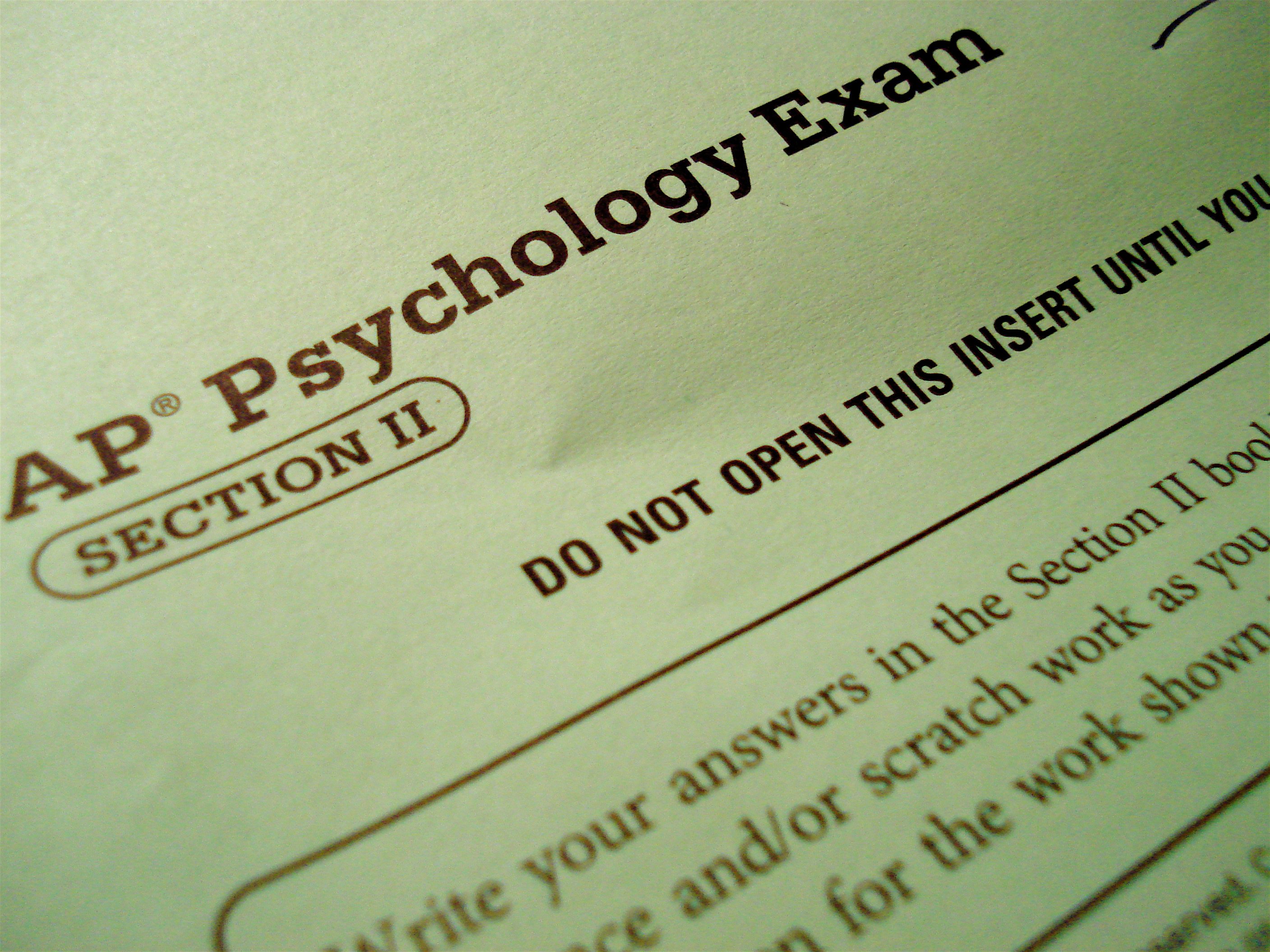 pics How to Pass AP Psychology
Watch How to Pass AP Psychology video
Discussion on this topic: How to Pass AP Psychology, how-to-pass-ap-psychology/ , how-to-pass-ap-psychology/
Related News
Years of Hating Her Body and Then One Simple Choice Changed Everything
Short Bob Haircuts Are So Much Fun to Play Around With
Cherry Panna Cotta Recipe
How to Install a Sling on a Civil War Musket (Reenacting)
Eat These 4 Foods This Summer for Better Skin and Hair
TheLIST: The 9 Hair Accessories You Need To Buy For Fall
14 Vegetarian Foods That Have More Iron Than Meat
These Photoshopped Pictures of a Newborn Are Truly Moving
People Are Eating Popsicles for Breakfast—Are They Healthy
Alternative Fitness Equipment Reviews to Makeover Your Home Gym
Study Says Obesity Costs Women More than Men
How to Organize Your Tools and Workshop
Kylie Jenner Was Given the Cutest Puppy for Her 19thBirthday
Hawaii had one president: Barack Obama
5 Leg Exercises That Are Just As Effective As Lunges Without Killing Your Knees
Date: 05.12.2018, 23:33 / Views: 34571
---